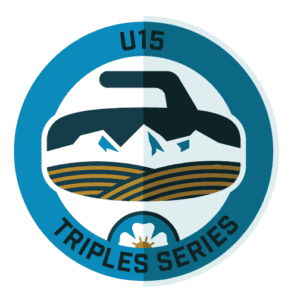 Triples Curling is an exciting new discipline that has been developed by Curling Canada and that Curling Alberta is excited to introduce. As its name suggests, curlers compete in teams of 3 when playing Triples. Each end consists of 6 shots per team, with each player throwing 2 shots per end. Unless otherwise indicated, Curling Canada rules apply to Triples, including those related to the Free Guard Zone.
This fun and exciting new circut allows new curlers a chance to try every position during the game and promotes athlete development. With three events on the circuit, ahead of the U15 Rockfest qualifiers, this is a great opportunity for curlers to try, learn and develop skills.
For more information on what Triples is and how to play, refer to the rules developed by Curling Canada's National Training and Development Centre by clicking here.
u15 triples bonspiel circuit
To register, click on the location or the 'Register Now' button below. The registration fee for each bonspiel is only $30 per curler.
| LOCATION | EVENT DATE | REGISTRATION DEADLINE |
| --- | --- | --- |
| Fort Macleod | Saturday, December 9th from 9am to 4pm | Dec 01 at 12:00 pm |
| Coaldale | Saturday, February 10th, from 9am to 4pm | Feb 01 at 12:00 pm |
| Lethbridge | Sunday, March 3rd, 2024 from 9am to 5 pm | February 23, 2024 at 12:00pm |
| Vulcan | Saturday, March 9th, from 9am to 5pm | February 28th, 2024 at 12:00pm |
Head to our U15 RockFest page for more information on the exciting new U15 initiatives coming to Alberta this season.