One of curling's great front-end players died earlier this week in Calgary.
Three-time world champ Fred Storey, who played lead for Ron Northcott's Calgary-based juggernaut team in the late 1960s, was 87.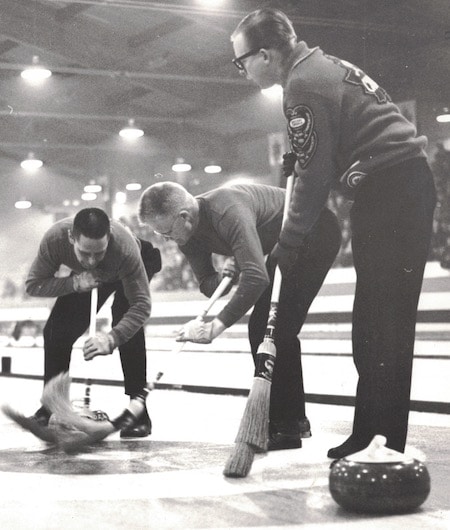 Storey combined with second Bernie Sparkes to form one of the game's most formidable front ends. With skip Northcott and three different vice-skips (George Fink, followed by Jim Shields and Dave Gerlach), that lineup claimed the Brier and world titles in 1966, 1968 and 1969.
And in the process, said 1974 Brier champ and fellow Canadian Curling Hall-of-Famer Warren Hansen, Storey changed the concept of what a lead could provide to a team.
"I think Fred was one of the first great leads in the sport," said Hansen. "If there was a corner guard put up, he'd be behind it, buried, above the tee-line, in a split second. That was a lot of the success of the Northcott team. During the 1960s I don't think I can think of a lead who was better at playing that game than he was. In that time, the lead was the one who set up the end. If your lead was able to get around a corner, you were almost assured of getting a deuce because the runback wasn't a routine shot like it is today."
Storey won seven Brier Purple Hearts representing the Calgary Curling Club — his first in 1960 with Stu Beagle (silver medal at the Brier); his second with Shields in 1963 (silver medal at the Brier) and the remainder with Northcott at the skip position.
"He provided a lot of the mental strength for that (Northcott) team," said Hansen. "Fred didn't have to say much; it was his actions. He was a no-nonsense guy on the ice; just win, win, win. I'd say he was the best lead in the game in the 1960s; he took the position of lead to another level."
A memorial service for Storey is being held on Monday in Calgary. You can view his obituary by CLICKING HERE.